Congratulations!!!
Catalyst would like to congratulate the following dealers on their success in the 2014 MCN awards.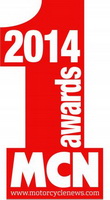 On Yer Bike
Grantham Honda
In Moto
Jack Lilley
Saltire Motorcycles
Cooper, Sunderland
Bransons Motorcycles
AMS Motorcycles
It's great when all that hard work and dedication gets noticed.
Interesting and gratifying that five of the eight (62.5%) are users of Catalyst's Dealer management Software. "Your Success is Our Priority".
Thanks all for being beacons of excellence & be assured of our continuing support and innovation for next year.