We had another great 3 days at Motorcycle Trade Expo. There was a very positive feel to the show and we were delighted to meet so many new prospects that had made the effort to specifically come and meet with us.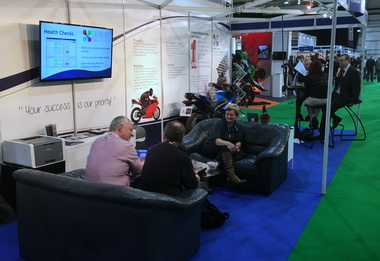 We used this year's show to launch our "online check sheets" feature which is now a standard part of Platinum online and the workshop management module. The check sheets look great on mobile phones and tablets and are very easy to use. What we did not anticipate was the level of interest from both Dealers and Motorcycle manufacturers.
It appears word spread very quickly and everyone wanted to know more. Staff from Honda UK, Suzuki GB, Dealership Principals, Workshop Managers and of course hard working Technicians all came to say hi and discuss how they can make more use of the new (and existing) features to help them "Bring in the business with Catalyst.
Catalyst have exhibited at Motorcycle Trade Expo every year for the last 21 years. We are definitely proud to be part of this fantastic annual event that brings the motorcycle industry together in one place. The organisers do a fabulous job to execute such a successful show each year.