Catalyst's first trade e-Commerce web site up and trading.
Superficially one would imagine that trade shops would be very similar to retail shops. With the benefit of experience I'm happy to testify that they are not! Selling to the trade is actually a very different thing to selling direct to retail and these differences have taken considerable effort to overcome in both design and implementation.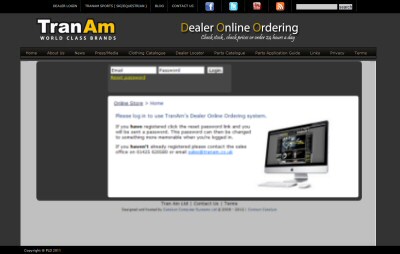 After this exhaustive development and testing, it's here, it's live and it's working very nicely for all concerned.
Thanks are due to "Tran Am" for taking the leap of faith with a new product. Even if we have tested a product exhaustively and then some! Yes we are still watching things closely, if more years than a few in the computer trade has taught us anything it's "Expect the unexpected!".
As many of Catalyst's customers are also "Tran Am" customers, please use the web site, we really hope the experience is a good one, you can look forward to even more specific trade features to be added to our eTrade e-Commerce solution over the next few months.
Jeff