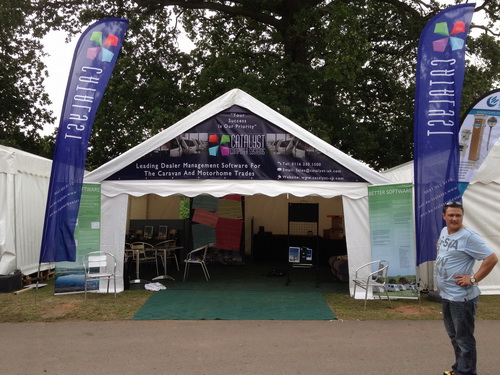 All set up and ready to go for the caravan trade's outdoor "fest" on the East coast.
This is in fact the only outdoor show that Catalyst exhibit at. It's all a bit of a novelty for us, fresh air and grass! We've been doing the show for several years but it's always a novelty to experience a little of the outdoors.
The new improved, much larger marquee is in place and even erected without incident! Four times more floor area than it's predecessor, light, airy and all in all a better place to meet, chat and demonstrate what we do. Thanks are due to all involved in the preparations and design. The weather forecast is excellent, so what could be better than a day out. See us on stand 25, find out what's new, there are plenty of software innovations, it's been a busy year for our programming department.
Looking forward to meeting old friends and new faces, See you there
Jeff.