Computer systems are generally used to administer a business. It's a necessary overhead required to hold the business together, enable staff to get on with the productive work of the business with the minimum of time whilst producing physical documentation (invoices and the like) and providing relevant information to plan and administer the business so that it can function and move forward.
The following are some of the most important reasons why having a great computer system will benefit a business over having a even adequate one.
Savings by Minimising the Overhead of Wages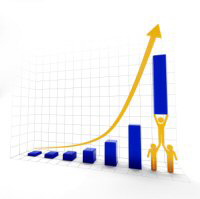 When selecting the software your business is to use it is vitally important to select the best product for a number of reasons. By far the most important reason is time. One of the most basic business laws is that "Time is money".
Our software tends to be at the heart of a business's day to day operations. Users will naturally spend a lot of time using software because it's key to their day to day role in the business. It is important to minimise this time as time is money in the form of wages. Even if having a great system were only to save 10 minutes per day per employee, which is an incredibly pessimistic prediction the following mathematics illustrate potential cost savings in a very modest enterprise.
Assumptions
3 Employees (Proprietor and two employees).
37.5 hour working day.
5 day working week.
4 weeks per annum holiday.
£13,000 per annum average employee wage.
£20,000 per annum proprietor wage.
Time Saved 10 Minutes per day for each person.
Saving just 10 minutes per day per person amounts annually to a saving of £1022. Consider this over a five year system life and this equates to £5111. Change the model to assume 30 minutes per person and the saving is a huge £15,333 over five years. Try the calculations yourself based on the statistics for your business, you will be amazed how saving a little time day by day adds up!
The model above is for a very modest enterprise with modest wages. Savings will of course be much larger for larger enterprises. The figure for potential savings is likely to be vastly more than the cost of difference between computer systems, thus the system cost vastly less significant than the potential savings from staff time that will be obtained by choosing the right system.
We strongly and genuinely believe that Catalysts systems are far more than only slightly better than our competitors in a multitude of ways. All businesses are not the same and the above model is for a very modest business. We would thus expect the savings for most businesses be much greater.
It does have to be born in mind that labour savings are only savings if this means that you can grow without taking on new staff or that time saved is used in productive work.
Enhanced Customer Experience
A great computer system will minimise the time it takes to deal with customers day to day interaction with the company. Dealing with customers crisply cleanly and efficiently is likely to impress them. Providing them with clear and concise documentation in the form of a receipt or invoice which includes your company's logo and details re-enforces the good service. Impressed customers tend to come back and recommend business to their friends and colleagues. Good customer experience will grow your business!
Enhanced User Experience
Your staff and very likely yourself are going to use your company's software. It's vitally important to find information easily and quickly to avoid frustration. It's also vitally important that information found is reliable. Our software is incredibly easy to retrieve information from and is incredibly reliable so you can rely on it. This of course makes for a happier working day!
Marketing
Letting the world know that you're around and keen to do business is obviously key to the success of almost all businesses. Our software is extremely well developed in the area of customer contact. We send various reminders and follow up letters for sales made and regular work required. We bulk market by e-mail and telephone text message and we interact with the internet to not only sell product directly by e-commerce but also to advertise them for you (Catalyst Findit).
Third Party Links
Where ever possible we send information to third parties requiring it. We do this to prevent duplication of input (and thus lost time). Examples of these links being, ordering interfaces with suppliers, output of information to third party advertisers and links to intelligent databases like manufacturers electronic fiche systems. Because these links mean that information does not have to be entered twice the time savings are enormous.