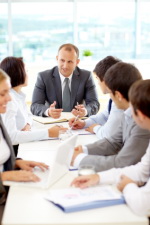 Purchasing the correct software to run your business is vitally important. Getting the correct software will minimise time spent by staff in administration and maximise the effectiveness of your business.
In order to help you make this crucial choice we are very happy to provide free demonstrations of our products to ensure that it performs as you need and expect. This can be done in any one of three ways.
We can visit you at your premises, this provides us with an excellent opportunity to assess your requirements.
We would be delighted for you to come here to Catalyst, we would love the opportunity to show you our company, it's support facilities and introduce our support team.
We can provide, usually at very short notice, an on-line remote demonstration of our software via the Internet.
Which ever way you choose, our aim is to explain how the power of Platinum Software can help your business grow.
For remote demonstrations, we will call you by telephone at the appointed time, simply click on the button below to start the demonstration, we will provide a session ID and password (no software will be installed on your machine and the demonstration is secure and safe).
Catalyst Computers Remote Demonstration