Large Multi-site Multi-franchise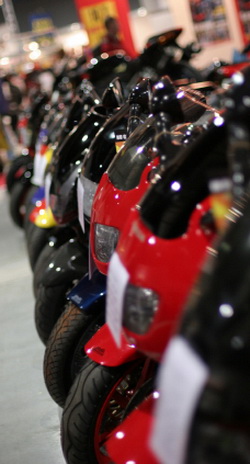 This customer is a large multi-site multi-franchise motorcycle retailer with five sites. They have been a customer of Catalyst using Platinum software since 1994 when they operated from a single site. The power and flexibility of Platinum software has helped them to grow in a controlled and organised fashion giving a consistent approach and feel as the extra sites have been added. They take full advantage of the software modules including the integrated accounts, stock control and ordering, workshop and vehicle sales.
Bike Sales
The vehicle sales module controls the bike stock and sales down to individual vehicle level and copes with new and used bike sales including both margin and VAT qualifying used bikes. The software automatically uploads bike information to multiple internet sites for advertising purposes, such as eBay, Bike Trader, their own website and the Catalyst FindIt site. It allows them to control all bike sales including part exchanges, accessories sold with the bike, warranty and finance details, and from this, derive performance and commission information by salesman or by site simply and easily.
Workshop Control
The workshop module provides them with a graphical electronic diary split by site showing hours available to sell along with current KPI's. Control of technicians hours attended, taken and sold is built in to the module. All their internal, insurance and warranty jobs are all catered for. Parts required for jobs are allocated or ordered depending on availability and booked straight back to the job when they arrive on site.
Comprehensive
Like many of our clients they have opted to take parts and price subscriptions giving them access to the latest parts and prices. Using the links to manufacturers systems that we have developed, they download parts lists from on-line electronic parts catalogues and upload purchase orders electronically to suppliers systems where available.
They also take advantage of the features of Platinum Online – the managing director being a big fan of the graphical performance dashboards and reporting to keep his finger on the pulse of the business. He has several customised KPI reports and can view the performance at each site and/or department individually or for the business as a whole. Using the data from Platinum, each member of staff can review their own performance against target at any time.
Scalable, Powerful and Flexible
Platinum has given scalable, powerful and flexible tools to drive and control the business as it continues to grow and develop. This customer has taken full advantage of them.