Motorcycle Sales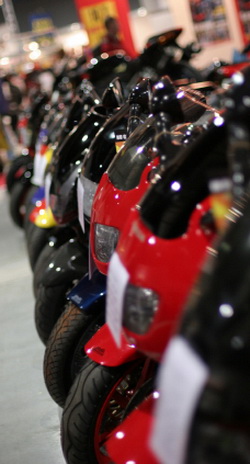 Catalyst Platinum offers you the opportunity to easily administer your motorcycle sales, and compile extensive managerial databases.
The Unit Sales Module is an essential part of every dealer's armoury. It is a purpose designed program for administering motorcycle sales, including a sales aid, a managerial database and an accounting system.
Looking after all aspects of your bike stock, this module will produce invoices in different formats for new and used bikes, allow rapid retrieval of stock to match a clients requirements and calculate V.A.T appropriately for used and imported motorcycles. It also has a customer retention centre along with full mailing facilities for recalls and sales purposes as well as an integrated finance optimiser and extensive reporting facilities.
It holds photographs of stock that can be used in front of the customer. Bike data (including photographs) can be automatically uploaded to FindIt, eBay, Visordown.com, Bennetts Classifieds, Motorcyclesupermarket.com, Bike Trader, Dealer Web and MCN any many more websites - ensuring that your web presence is always up to date.
Prospecting
Our prospecting CRM module allows you to maintain your prospects in an easy and highly effective manner. The system allows you to enter vital information, including, company name, address, telephone and fax numbers, contact name, extra notes and interest categories.
All contacts that need to be contacted are in an attractive, colour-coded list. You can then view the full prospect of each due contact and find out the last details from the last time you got in touch, company names and contact information.
Each prospect can be attached to a series of interest categories. This allows you to generate reports, mailings and labels for specific categories for targeted campaigns.
Key Points
Looks after all aspects of your motorcycle stock.
Calculates V.A.T. appropriately for used and imported motorcycles.
Has full mail-shot facilities.
Customer retention centre.
It can connect to fax software and will send text messages.
Integrated finance optimiser to work out the best deal for you and your client.
HPI Link for motorcycle provenance check.
Motorcycle Stock can be linked to various websites.
View comprehensive 'contacts due' list, showing who you need to contact and when.
Categorise your prospects, making it easier to search and generate category specific report and mailings.