Motorcycle Sales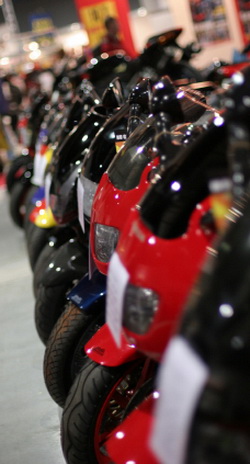 Catalyst Platinum offers you the opportunity to easily administer your bike sales, and compile extensive managerial databases.
The Motorcycle Sales Module is an essential part of every dealer's armoury. It is a purpose designed program for administering bike sales, including sales aids, a managerial database and an accounting system.
Looking after all aspects of your bike stock, this module will produce invoices in different formats for new and used bike, allow rapid retrieval of stock to match a clients requirements and calculate V.A.T appropriately for used and imported unit. It also has a customer retention centre along with full mailing facilities for recalls and sales purposes as well as an integrated finance optimiser and extensive reporting facilities.
We directly market bikes on the web on behalf of our customers. The site gets millions of hits and thousands of visitors per month, this service is free for customers with a valid maintenance or rental agreement

(Note: Third parties which you give us permission to have your data from FindIt may make a charge -check your agreement with these third parties)

. See www.catalyst-findit.com.
We export information to eBay, Visordown, Bike trader, MCN (Exclusive offer to users of our Platinum DMS: Advertising of small bikes on the MCN website is FREE), MotorcycleSupermarket.com, Exchange and Mart, Bike Catcher, Tradeouts, customers own web sites meaning that information is entered once and automatically appears on many web sites. See here for more information.
Prospecting and Marketing
Our prospecting CRM module carries out all the administration involved in regularly contacting potential customers, also known as 'prospects.' The system acts as an organisational tool, and provides sales staff with the information required to ensure bike prospects are being contacted on a regular basis, with material that is of interest to them. It also enables the sales team to be more effective by providing information at their fingertips about the prospect, their requirements and past conversations or contacts.
The urgency of the contact is made clear using a colour code, you can then view the full prospect of each contact made to the customer to gather any important information you may require about the prospect.
Each bike prospect can be segmented into a series of interest categories, allowing you to generate reports and target marketing material towards certain trades or interests, meaning your campaigns have greater impact and you're not wasting resources on 'blanket marketing'.
GDPR is supported allowing the level of marketing material to be controlled.
Key Points
Looks after all aspects of your bike stock.
Calculates V.A.T. appropriately for new and used bike units.
Sales documentation, including quotations and invoices.
Has full mail-shot facilities.
Customer retention centre.
It can connect to fax software and will send text messages.
Integrated finance optimiser to work out the best deal for you and your client.
Unit Stock can be linked to various websites.
View comprehensive 'contacts due' list, showing who you need to contact and when.
Categorise your prospects, making it easier to search and generate category specific report and mailings.
HPI Link for vehicle provenance check.