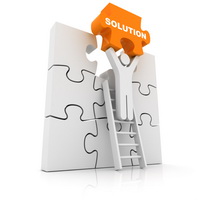 We can provide an integrated accounts package to work in harmony with the operational areas of the system. This allows you to integrate your vehicle and parts stock with your nominal ledger and avoid re-keying or importing data into a separate package.
Understandably, some people are, however, very comfortable with their existing accounts package and want to retain this whilst taking advantage of the considerable operational capabilities of Platinum.
Third Parties
We can supply information suitable for external accounting systems via file output. A combination of our report generator and Data export module can provide account and transaction details required to feed third party accounts systems in a wide variety of formats.
Obviously capability has to be present in any third party accounting system to import information. By definition third parties are beyond our control and we can thus offer no guarantee of functionality or ongoing support by third parties. It is however in the interests of all to maintain link continuity, It is to be expected that third parties will seldom remove or change import functionality due to the obvious upset caused to their own clients.
We can export data to the Samoa Oil Distribution system
Hibachi Finance via Apak