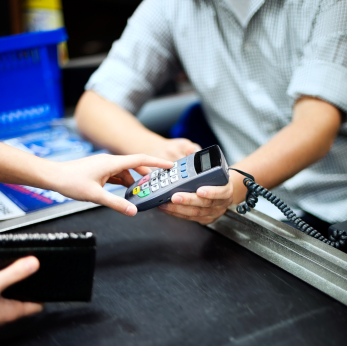 Catalyst have specialised point of sale software designed for shop sales. Combined with our powerful head office stock control, replenishment and management reporting systems the result is an incredibly powerful and fully integrated system from warehouse to shop. Centralised control of the system means that promotions and special offers can be configured by head office and automatically implemented at branch thus minimising workload at individual shops.
Emphasis is on ease of use, speed of operation and reliability with the use of reliable inexpensive industry standard hardware. All communication is possible using inexpensive standard broadband links to minimise running costs. The software is simple to use and designed for minimal staff training.
Our Platinum Software is a fully integrated product that covers all areas of your business.
Our point of sale system gives a slick and quick experience for both customer and retailer featuring durable shop sale recording and touch screen selling.
Full Management reporting is included with all our software allowing you to track those all important KPI's.
We provide seamless e-commerce (eShop/eRetail) solutions which include upload of stock details and pictures, download of customer and order information, real-time stock level enquiries and customer specific pricing.
KPI's, charts, general reporting and specific data entry can be achieved on mobile devices (Phones, Tablets and Pads) by using Platinum Online.
The software is fully secure by user as you, of course, need to limit access to sensitive information.
The software is incredibly flexible with user configurable reporting, document designs and menus.
We offer unrivaled levels of help and advice in the forms of ongoing telephone and web based support. Comprehensive training is available in a classroom environment, and on site "one to one" and even on a "one to one" hourly basis via the Internet.
We maintain a free to use, constantly updated and comprehensive "on-line" knowledge base with over 1500 articles and 1000's of reference pages'to make finding the answer to those everyday problems simple.
Rental
As our software can be rented on a month by month basis (it can of course also be purchased) with no long term contract and low up front costs the software is ideal for new start up retail sale business's as well as those larger more established retail sale business's with a tight hold on their capital outlay.
What can Platinum offer your business?