Shop Sales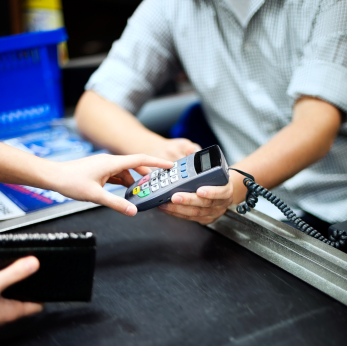 Slick and Quick
For the retail customer, the experience is slick, quick and professional. Outstanding features for retail include quick find of stock from barcode, item description or "quick buttons". Full support for all common promotion methods including "multi buy" and "linked stock" offers.
Durability
The software is incredibly durable in multi site operation. Head office information is generally maintained in real time, in the event of an internet glitch retail sales are unaffected and automated catch-up gets head office up to speed with no effort when internet contact is re-established.
Touch Screen Sales
This is designed to work smoothly and intuitively using touch screens, featuring large customisable buttons to represent frequently sold items.
Credit card authorisation, bar-code reading/writing and receipt printing are of course standard features.
A full history of every stock movement is kept for reporting, essential for sales analysis.
Key Points
Use barcode, item description search or "quick buttons".
Powerful text search.
Full history of shop sales.
Built in till reporting, credit card authorisation and receipt printing as standard features.
Pictures of stock can be held and used on your website.
Credit Card payments.
Touch Screen Sales.
Links with many eCommerce solutions if you want to retail on the internet.
Customer account status and credit limit warnings.
Track your customers orders.
Order Confirmations.
Picking Lists and Delivery Notes.