We have a new way for you to suggest ideas – share your ideas now!
We have recently introduced a new Ideas Portal as a way of submitting enhancement requests. This will replace the current Ideas email address.
We have made this change to provide you with better visibility of your ideas. It will also give you the opportunity to review, vote and comment on ideas that have been added by other users and our own internal teams.
The Ideas Portal will allow us to see the requests that are gathering the most feedback as well as providing you with updates on submitted ideas.
Existing enhancement requests are being reviewed and entered into the Portal to allow you to see what has already been requested – please take a look and vote on any ideas that you think would be useful.
Register to submit ideas
You will need to register as an Ideas Portal user. This can be done by navigating to the Ideas Portal from the website, where you will be taken to the Platinum Ideas Portal. Then click onto the Sign-up link on the Platinum Ideas Portal.
Enter your email address along with your first and last name, and then click onto the Register button.
Once registered you will be redirected to the Platinum Ideas Portal.
Submit an idea
If you have already registered, navigate directly to the Ideas Portal from the website and click onto the Log in/ Sign up option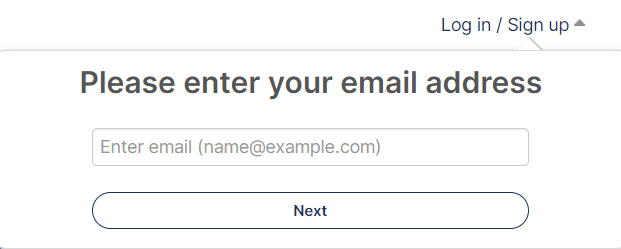 Enter your email address and click onto Next
Enter your password and click onto Log In
Add a new idea by clicking onto  + Add A New Idea.

An Add Idea form will be displayed, allowing you to enter details about your idea.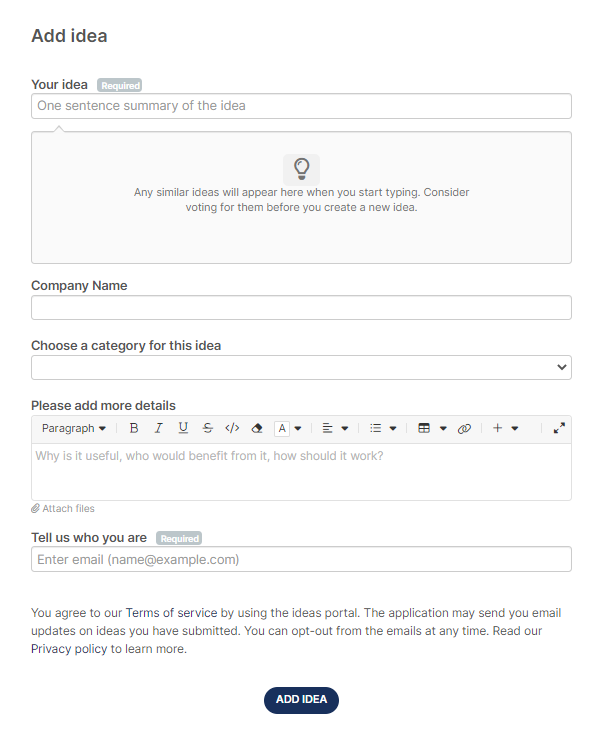 Enter a Title for the idea into the Your Idea field. This should be a single line description. Similar ideas will be displayed.
Enter the name of the Company that you work for. This helps us to get back to you if we require further information.
(Optional) Choose a Category for the idea. This helps to group ideas together against different areas of the product.
Add further information about the idea in the Details field. You can also attach files if necessary.
Enter your Email Address so that we can reach out to you directly if needed.
Finally, click onto the Add Idea button to submit your idea.