Workshop Management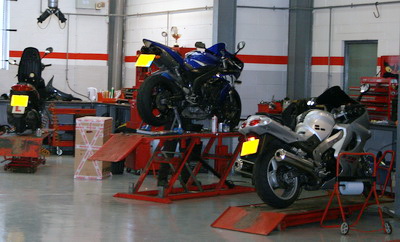 The Platinum Workshop Management module is a purpose designed package for use in administering motorcycle trade workshops. It comes configured for the motorcycle trade and many of the unique attributes of the motorcycle trade are easily dealt with.
The workshop management module allows you to keep your job tasks organised with a fully featured workshop and body shop diary. You can easily schedule new jobs, and give essential estimates and insurance work.
The module will give you greater control with it's many features. Including parts back ordering and retrieval, the ability to set fixed prices for jobs; allowing you to quickly apply a cost to certain jobs, real time technician logging, third party electronic parts catalogue integration, unit lookup. SMS texting, and many more.
You can produce extensive reports showing any amount of data, including: workshop & technician efficiency, productivity and utilisation, workshop revenue and profitability, work in progress, etc.
The fully configurable customer retention centre will automatically send out reminders (via eMail, SMS, letter etc) for Servicing, MOT's and many other 'reminder' style contacts between you and your client base.
With multi-site compatibility and operations this software will suit any size of workshop and can help you to keep control of your repairs, sales and other relevant factors.
Key Points
Workshop and bodyshop motorcycle trade diary.
Job estimates and insurance work.
Retail / Internal / Warranty work.
Parts back ordering and retrieval.
Ability to created fixed priced jobs.
Third party motorcycle trade EPC (Electronic Parts Catalogue) integration.
HPI Link for vehicle details lookup.
SMS text.
Real time technician logging.
Customer retention centre.
Store pictures for body shop and workshop estimates (Upload these direct from a mobile device with camera with Platinum Online).
Extensive workshop and KPI reporting.
Fully Integrated with the other Platinum modules.
Complete history of all work done.