Details

Published: Thursday, 24 January 2013 16:56
Written by Catalyst Computer Systems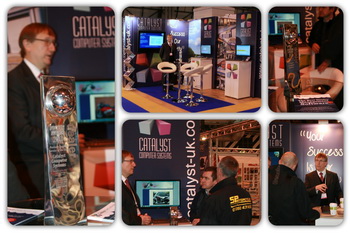 Given the weather conditions, our hopes for this year's Trade Expo at the NEC were quite low, and did make it interesting to set up the stand and get to the venue each day! While attendance did suffer noticeably on Sunday and Monday, we had a very good level of activity on all three days. It was very good to see those of you that made it on any of the three days, and thank you for taking the time to come and see us. It is always good to see both new and familiar faces and to get direct feedback, good or bad. It is very helpful to understand what we do well for you, and what we perhaps don't do so well.
We would like to acknowledge all the efforts put in by various people that helped to make the show successful for us. First of all, thanks to Natasha for all her efforts in designing and organising the stand and the other aspects of the show; Sarah for her unstinting hunting down of prospective customers at the show; Mike and Nigel for their blagging abilities (!); and to all of the above for their manning of the stand. Secondly, thanks to Pete and Mark from Tran Am for dragging new prospects onto our stand! Thirdly, thanks to Stuart Proctor for the pictures of the stand.