Details

Published: Thursday, 19 September 2013 11:04
Written by Jeff Kingsbury-Smith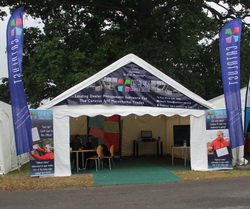 Having dusted down the company marquee, plotted, planned and examined lists we arrived on site bright and early for set up. Half an hour in, depression, having scattered the considerable contents of the van far and wide we reach the unfortunate conclusion that the marquee is somehow two joints short of buildable! Ooops, frantic phone calls prompted much examining of the deep dark recesses of our offices, we unearthed one but still no sign of the second… No choice, find out where it came from. Trusty "3G" mobile internet and "Google" combine to provide an answer. The suppliers are just an hour down the road in Rotherham. A quick phone call and a dash to "Gala Tents" and we have our solution within a couple of hours, Many thanks to all at "Gala" for processing our order speedily so that we had a roof in place before the weather closed in!
This "interesting" test of initiative and team spirit turned out to be well worth the effort. Despite some definitely damp and autumnal weather the show has been a great success providing us not only with the opportunity to gather new potential customers but to talk with old friends and to form partnerships with others within the caravan industry.
Thanks also due to all at "Hercma" for organising the show, particularly their efforts to introduce more caravan dealers.
See you all next year!
Jeff