Details

Published: Tuesday, 18 December 2012 11:45
Written by Jeff Kingsbury-Smith
Catalyst Win "Best Dealer Management Software" award.

Following a poll of dealers across the motor and motorcycle trades by Tradeouts.com they have awarded Catalyst winner of their "Best dealer management software" award. The runners up in this category were our rather larger and to be honest better known competitors, ADP/Kerridge and Pinewood.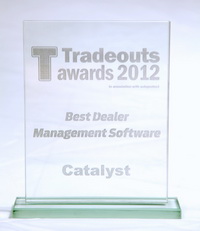 I'm personally gratified that it has been noticed and acknowledged that our years of considerable innovation and effort have resulted in a very reliable complete system. We have for many years maintained the ambition of making the administration of motorcycle dealerships as simple quick and painless as is possible. More recently we have brought these benefits to an increasing number of car, caravan and agricultural dealerships too.
Be assured that we will continue the good work on all fronts. We've lots of plans and ideas for development into 2013 and beyond. Above all we realise that our success depends on the success of our customers, we will continue to do all we can to help them thrive.
Jeff