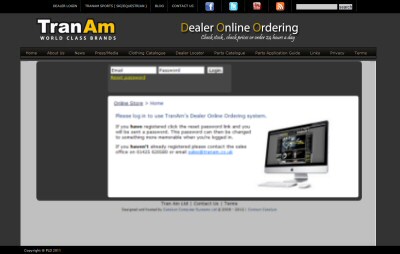 TranAm's dealer network have access to the TranAm catalogue using the eTrade solution from Catalyst.
Our flexible eShop solutions allow this trade shop to require a login before any of the catalogue or stock availability is seen. It is configured so some retail shop accounts who have their head office order the stock use the eShop as a stock availability and price enquiry service only (ordering for these accounts is disabled).
The eShop uses our 'user styled CSS' facility allowing for a totally seamless visual integration into TranAm's existing website.
Once logged in, the trade and retail prices are shown along with the real-time stock availability. The Account Manager function of the eTrade shop allows the TranAm account manager's to place orders from their tablet computers on behalf of the dealership there are visiting, of course with the trade prices specific to that account.
If part numbers are already known browsing and searching for that part can be by-passed by entering the part number directly into the basket for speedy entry.
Any orders placed are sent back to Tran Am's Platinum DMS instantly saving time and any re-keying errors, allowing for a quick and efficient service to their Dealer Network.