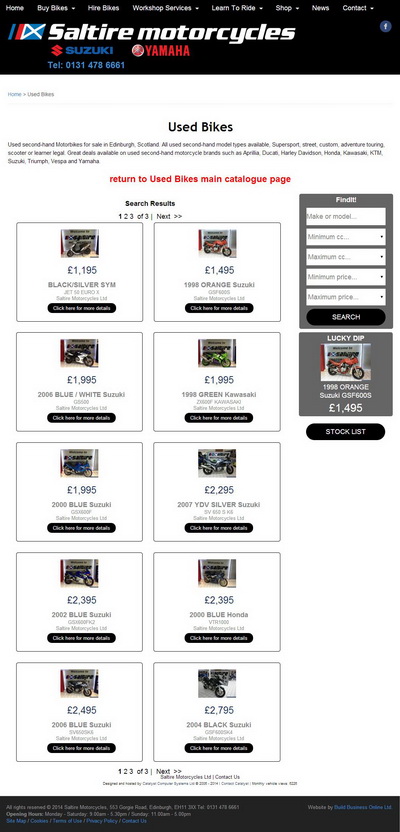 Having twice been voted as the UK's number one Japanese franchised motorcycle dealers by RIDE Magazine, Saltire Motorcycles covering the Lothian region offers new and used motorcycles whether you simply want a learner legal motorbike, want to choose from a wide range of scooters; or whether you're in the market for something more adventurous like one of their sports, street, custom or adventure/touring bikes.
They are using our Free website "plug in" for the their used bike lister. Various levels of configuration are available, from Catalyst setting up your colour scheme for you right through to client hosted and styled "ccs" file styling. For the "tech" folk out there the "plug in" runs in an "iframe" and is using their own hosted and styled "ccs" file allowing the client full control over the look and feel of their used bikes list.
As you can see the "plug in" is very flexible and even better it comes free when you have a current rental or maintenance agreement for our Platinum Vehicle Sales module.
As a Bonus all motorcycles are automatically listed on Visordown Classifieds, Auto-Kingdom, BikeShack and our very own Catalyst FindIt websites to increase their chance of being found by their next owner.